Functions and year end Parties
Gauteng conference venues and Apex Conferences can assist you with finding the right venue to host your year end function, event or year office party.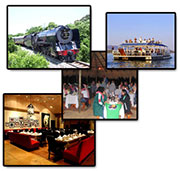 Getting bored of having the same old parties at the same old venues in Dec? Contact us for some ideas and options for your year end function and parties and say goodbye to the year in a fun way! From memorable dinner and gala evenings to traditional christmas lunches and dinners with Santa making the rounds!
We will arrange both corporate as well as private functions and year end parties. Fun or formal, its your call! Additional services such as transport and health spa treatments can also be sourced.
Contact us for information and options, please remember to book as soon as possible for year end functions as most venues get booked out in the first 6 months of the year!