gauteng Teambuilding venues and options
Lets have a look at the word 'Teambuilding', especially the first part - T.E.A.M - Together Everyone Achieves More...
Raise the stakes and increase productivity by making use of teambuilding.
Team building events and functions can help your business reinvent and solidify itself and features hands on knowledge that leads the way for the competition to try and keep up.Year end functions and events, teambuilding activities, conference venues, motivational speakers,
leadership skills, leisure activities and all that you need to turn vision into productivity.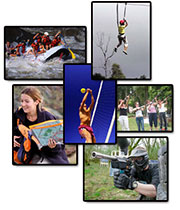 Gauteng conference venues can assist you with various services such as the sourcing of quotes from suitable venues and teambuilders based your requirements and budgets, as well as additional support such as making sure you have all the facilities you will require, including transport and secondary activities. Teambuilding and Conferences can be played nationwide.
There are many teambuilding options you can choose from including:fly fishing in the Magaliesburg, survivor challenges,crazy sports, lazer pidgeon shooting,drumming,spa treatments, archery and inflatable sports,geocaching,hot air ballooning,microlights and many more.
Contact us for more information and assistance with your future teambuilding session or event. Nationwide or locally in Gauteng.